Friends of Burton Manor Gardens
Burton Manor house dates back to 1904, when it was created by the youngest son of Prime Minister William Gladstone, as an enlargement of the original Burton Hall, dating from 1805. In 1948 it became an adult education college running day and residential courses. The college closed in 2011, and for many years has been offered for sale by the owners, Liverpool City Council.

The Friends of Burton Manor Gardens, a volunteer group, are dedicated to restoring and maintaining the gardens around the Manor. Much restoration work has already been achieved, including the Walled Garden. With the help of Heritage Lottery Funding, a large Edwardian glasshouse, big enough for use as a greenhouse and a daytime education facility has been restored to its original design. Further restoration is in hand, including the 19th Century underground Icehouse and the historic Orchard.

We welcome visitors to the gardens, daily 10am – 4pm, with free admission. For group visits, please call 0151 336 6154.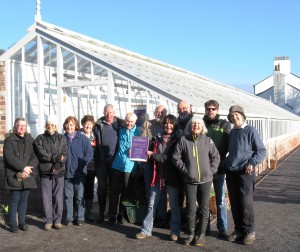 If you would like to help, you could join our Volunteers, who meet on Mondays and Wednesdays – usually 10am – 1pm.
No experience required. Please phone 0151 353 8783 for more information.
Why not join the Friends?
Janet Flexney (Hon Sec)
Burton Manor
Burton, Neston
CH64 5SJ
0151 336 6154
Email: burtonmanorgardens@gmail.com
Facebook: @burtonmanorgardens
The Friends of Burton Manor is a registered charity (charity no: 1175483).