Emma, Lady Hamilton (26 April 1765 – 15 January 1815)
Baptised in Neston Parish Church, she was born into extreme poverty in Ness, the daughter of a blacksmith, Henry Lyon, who worked in the newly-opened coalmines in Denhall, and who died soon after her birth.
She was brought up in Hawarden by her mother and grandmother, and at an early age (about 13) travelled to London with her mother, where she took on menial work in theatrical venues such as Drury Lane. Her beauty and natural health (uncommon amongst the poor) brought her to the attention of several aristocrats, one of whom, Charles Greville decided to educate her and encouraged a relationship between her and the much older Sir William Hamilton, whom she eventually married. During this time she sat as model for several distinguished artists, including George Romney, whose portraits made her beauty famous throughout wealthy society.
Sir William was the British ambassador to Naples, and, as Lady Hamilton, Emma's task was to entertain visiting dignitaries. Principal among these was Horatio Nelson, with whom she formed a famous menage-a-trois after the Battle of the Nile in 1798. She and Nelson were feted throughout Europe and Emma was presented with the Cross of Malta by the Tsar of Russia, and had a cantata devoted to her by Josef Haydn.
However, her behaviour was considered scandalous by London society and following Nelson's death at Trafalgar in 1805 she became ostracised and fell heavily into debt. To escape her debtors she fled to Calais, France, where she died in 1815 of dysentery.
She left two surviving children: a daughter Horatia, with Nelson, and an earlier daughter Emma, whom she brought to Parkgate when she visited as an unmarried mother aged 19 in 1784.
See the Emma Hamilton Society website for details of a Society established in 2016 in memory of Emma.
An anvil, reflecting her father's occupation as a blacksmith, commemorates her birth was sited at the entrance to Mealor's Courtyard in Ness in 2016. The Lady Hamilton public house, in Little Neston, also commemorates Emma.
April 26th 2015 was the 250th Anniversary of Emma, Lady Hamilton's birth.
A week long programme of events was held, organised by Neston Town Council, The Burton and Neston History Society and the 1805 Club.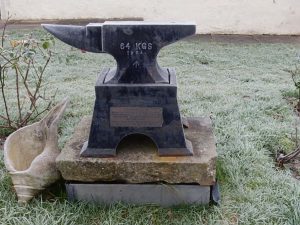 The linking event for the week was an Exhibition, you can download a copy of the Exhibition Document providing more details on the life of Emma, Lady Hamilton. The Exhibition was researched and put together by Dr Geoff Wright, assisted by Susan Chambers. Permission must be sought to copy any part of the document, please email bnhsociety@googlemail.com for any usage requests.