Located in the centre of the historic town of Neston, the town hall is a locally managed community facility, perfect for all of your community, business and recreational events.
Built in 1887 to commemorate Queen Victoria's Jubilee, the Town Hall was designed by architect David Walker of Liverpool and its architectural merit is said to be 'a free adaption of the Queen Anne period in brick and terracotta'.
Activities and Events
Neston Town Hall currently hosts weekly recreational classes for all ages and abilities, as well as a number of monthly and annual events including theatre productions and art exhibitions. Click here for our current programme of activities and events.
We are looking to extend the range of classes and events offered and so if you are looking to host a new class for the local community to take part please speak to us about availability. We are also looking for people to host commercial sales events such as craft fairs, attic sales, swap shops and nearly new sales as well as specialist events and classes such as luncheon clubs, tea dances, cookery classes and business networking events. If you have an event you would like to see in Neston then please talk to us about your proposals.
Rooms for hire
The Town Hall is a great venue for private events such as weddings, christenings, children's parties and social evenings for clubs. We can provide facilities at very reasonable prices and can put you in touch with local caterers for hot and cold buffets, afternoon teas and continental breakfasts for your group or event. You can also dress the venue yourself to personalise it to you. Click here for full details of rooms to hire.
Others in residence
The Town Hall is also home to Neston Town Council, the Cheshire Police Constabulary.
We need you!
Neston Town Hall is now run and managed by Neston Town Council for you, the local community of Neston. We can't do it without you though so thank you for your continued support. If you would like to get more involved with the management, care and maintenance of the town hall, or the organising and running of events and have some time to spare we'd love to meet you. We want the Town Hall to be used by everyone so if you have ideas about its use come and talk to us. Also, if you have any photo of events you have held in the past at Neston Town Hall then we'd love to see them.
How to find us
The Town Hall is situated in the heart of the historic town of Neston on the Wirral peninsula. It is just 5 minutes walk from Neston railway station, is well served by local buses and has plenty of free parking close by.
Neston Town Hall
High Street
Neston
Cheshire
CH64 9TR
Telephone: 0151 336 3840 or email us: council@nestontowncouncil.org.uk.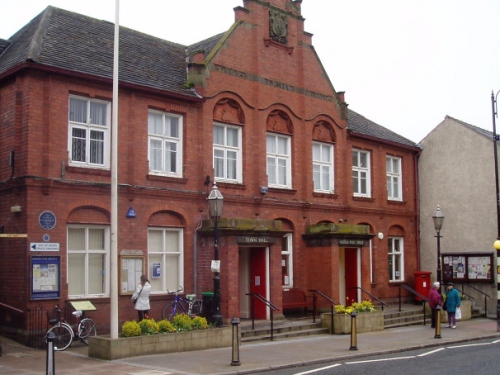 Enquiries
To enquire about hiring the hall or the market square, check availability or to discuss your requirements please contact us on 0151 336 3840 or email us at council@nestontowncouncil.org.uk. Our rates are very reasonable, starting at £11 per hour, and are discounted for charities or events that are of benefit to the town centre.
Download a Short Term Hire Application Form