Wirral Country Park is a 12 mile linear park which follows the line of the old Hooton to West Kirkby railway, which closed in the 1960s.
Running through it is the Wirral Way, which is used by walkers, cyclists and horse riders. The way is a haven for wildlife and is popular with barn owls. Once in serious decline in Wirral, the owls are making a comeback thanks mainly to the Wirral Barn Owl Trust. From Hooton the Wirral Way swings west, passing south of Willaston, where Hadlow Road Station can be found. It was not called Willaston station because there was already a station at Willaston near Crewe.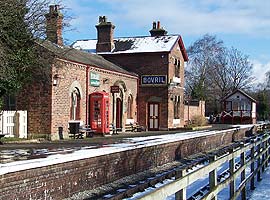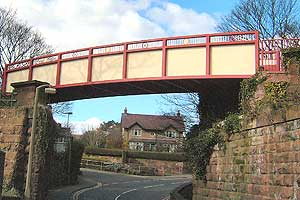 Hadlow Road Station (above left) has been restored – complete with track – to how it would have appeared in the 1950s, and has toilets, and a cafe.
From Willaston the park goes under the A540 Chester High Road, then between fields, and carried over Cuckoo Lane Bridle Road by a wooden bridge. It then passes Lees Lane Ponds. As it goes under Lees Lane, there is a steep gradient, where rubbish was deposited by Cheshire County Council, before they had the excellent idea of making the Wirral Country Park. The way is then through a sandstone cutting. See the pick marks on the sides of the cutting and the plants colonising the walls. At Mellock Lane, Neston is the place where Neston South Station was, now occupied by Station Close. Station Road runs alongside Stanney Fields Park, and under the railway bridge that carries the Wrexham to Bidston line, serving Neston Station. The Wirral Way runs past Neston Community & Youth Centre, before crossing Bridge Street by the Millennium Bridge (above right).
On the Millennium Bridge is this poem, which compares the sounds when this was a railway with the sounds now:
Billowing steam floats to the sky from the steam trains passing by

Clickety clop crunching leaves whisper of breeze now quiet and calm
Soon after, the Wirral Way crosses over Church Lane, on a bridge that is listed Grade II. It is only 5 feet 9 inches high, but some motor vehicles drive through.
From Neston the line turns north west and heads for Parkgate. Here can be seen a relic of world War II – a concrete pillbox which was intended to defend Parkgate Road and the railway bridge (since demolished) should the Germans have landed troops at Parkgate! Today it is protected as a monument, by the local council. The former station house is now a private dwelling. Part of the site of Parkgate's two former stations is now the Ropewalk Car Park.
Here the Wirral Way crosses Parkgate Road and continues north east of Parkgate, roughly parallel with the coast into Wirral Borough and on to West Kirby.
You can find details of local walks and cycle rides, some of which use the Wirral Way.