On the edge of Willaston lies a reminder of a bygone age of steam railways – Hadlow Road Station.
The Grade II listed Victorian building provides office accommodation for Greenspace staff and public toilets. The station has been lovingly restored to appear as it did in the 1950s – complete with a signal box and a British Rail ticket office.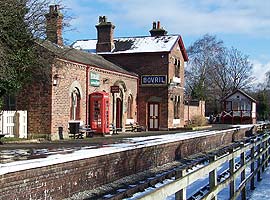 It opened in 1866 as part of a joint project by two railway companies, the Great Western Railway and London North Western Railway. The companies opened a branch line to Parkgate initially with stations at Hadlow Road, Neston and Parkgate. It was called Hadlow Road as there was already a Willaston station, near Crewe.
The venture must have been a success, as 20 years later the line was extended to West Kirkby, along with five more stations, but despite this the line remained single track, with passing loops at stations, for all its life.
But by the time British Rail was created in 1948, the Hooton to West Kirby line was apparently in trouble and it closed to passengers in September 1956.
It still found a use as a goods line and was even used to train drivers of the new diesel passenger trains, but finally shut down altogether in 1962. In the early 1970s the route of the branch line was chosen to create Wirral Country Park – Britain's first such park and the route of the Wirral Way.
The station building and the eastbound platform was restored to its 1950s state, although the westbound platform, with its brick shelter, remains unrestored. Today it serves as one of two visitor centres for the Wirral Way. The building was refurbished in early 2011.
The former station master's house at Parkgate survives as a private residence, but there is little trace remaining of the station at Neston (renamed Neston South in the 1950s.)
Other details about the station can be found on these websites: Friends of Hadlow Road Station and Disused Stations – Hadlow Road Station.