Parking in Neston and surrounding area is often free of charge.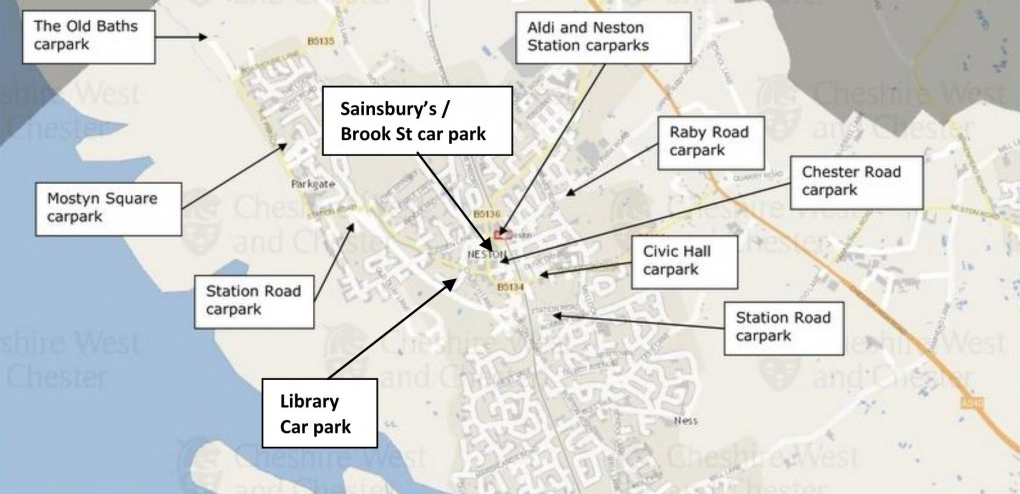 Sainsbury's / Brook Street Multi-Storey – Public parking for 224 cars, 13 disabled and 6 parent and child spaces. Limited to 3 hours, and open during Sainsbury's trading hours – Monday – Saturday 7.30am – 10pm and Sundays 10am. – 4pm. The main entrance is from Brook Street; with exits to either Brook Street or Raby Road. CH64 9XJ
Chester Road Car Park – 141 spaces, plus 10 disabled spaces and motorcycle spaces. Two charging points for electric vehicles are dual-socket fast GeniePoint chargers, managed by ENGIE EV Solutions. CH64 9PA. In August 2023 some drivers were given penalties for not parking within the white lines, or for parking more than four hours in a designed (designated?) disabled person parking space. A photo of the notice is below: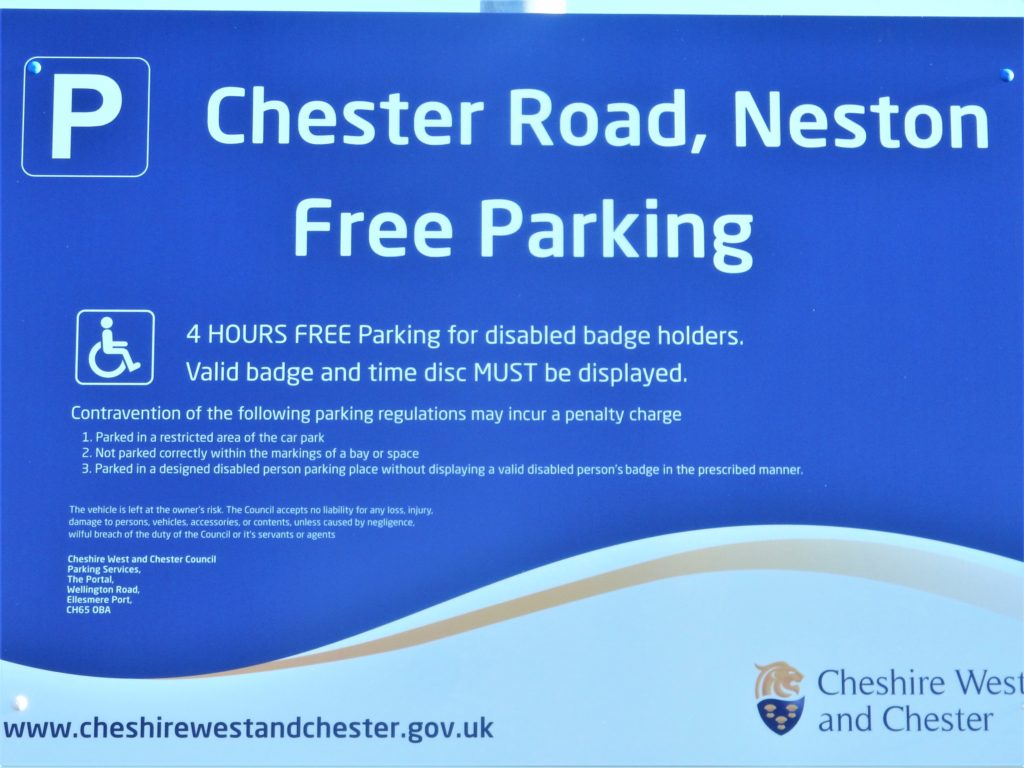 Aldi / Neston Station – 42 spaces The part controlled by Aldi / Parking Eye is limited to 90 minutes, but the part nearest Raby Road – turn right as you enter from Ladies Walk and go past the sign saying "Rail Users" – is unlimited. The small car park by the station accessible from Raby Road is unlimited. CH64 3RG
Neston Library (off Beechways Drive) – 20 spaces. CH64 6TF
Civic Hall (Hinderton Road) – 10 spaces. CH64 9PQ
Station Road, Neston – 17 spaces. CH64 9WE
Raby Road (outside Cemetery) – 8 spaces. CH64 9SW
Outside the Town Centre there is further parking available in Parkgate and Willason.
Mostyn Square – 15 spaces. CH64 6SR
Old Baths, off Boathouse Lane. Gate are closed and locked at dusk. CH64 6RN
Ropewalk Car Park, Station Road, Parkgate – Wirral Way entrance. Gate closed at dusk. Renovated and enlarged in 2016. CH64 6QJ
Buckley Lane, off Hadlow Road, Willaston – 17 spaces. CH64 2TU