Neston Flicks Saturday Screenings are Neston's own Community Cinema in Neston Civic Hall, organised by a team of local volunteers and NCYC's Community Activities Co-ordinator, Zaria Shreef.
Saturday Screenings take place on the last Saturday of the month, and doors open early for those who want to take advantage of the great value hot food and licensed bar before the film.
Come and enjoy the Neston Flicks formula of food, cake, licenced bar and great atmosphere at Neston Civic Hall on the last Saturday of the month. Doors open 6 p.m. for the chance to enjoy a drink from the bar, before the film starts at 7 p.m. MC John is on hand to introduce the film, let you know about upcoming events you won't want to miss, and the rest of the volunteers on the Flicks team are always willing to make your community cinema experience just that little bit more special.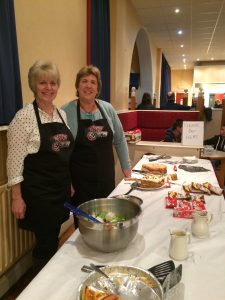 On the menu are pimped-up hot dogs on brioche buns, with melt-in-the-mouth onions. Veggie version also available. No food voucher needed, just pay £3 on the night. If you don't want a drink from the licenced bar, you can always get a cup of tea and a slice of fresh cream cake, or grab a choc ice at the interval.
Doors open at 6 p.m. and films start at 7pm. Tickets at £5 (£3 for those 16 and under) can be purchased from Neston Community & Youth Centre, or Paisley Grey on Neston High Street.
Tickets can also be bought on the door, but it's better to buy in advance.
NCYC's Activities Co-ordinator Zaria Shreef says, "We have some brilliant films planned, and all the volunteers have a great time. The atmosphere at the Civic Hall on Flicks night is really something special!"
Neston Flicks also run Senior Matinees on the second Tuesday of the month at Neston Community Youth Centre.
To find out more about Neston Flicks, contact Zaria on 0151 336 7805, email or go to the Neston CYC Website.