Weints and Other Odd Places
The Neston area has at least five Weints (and many odd places including Newhouses Lane, Mare Hall Lane, Morton Court, Golden Lion Yard).
Mealors Weint is off The Parade, Parkgate, and has six addresses.
Penningtons Weint runs between High Street and Chester Road car park.
Poplar Weint runs between Leighton Road and Liverpool Road, and has eight addresses.
Pykes Weint comes off High Street, and has three addresses. Learn more about Pykes Weint here.
Swifts Weint is off The Parade, Parkgate, and has six addresses.
What's a Weint?
Most dictionaries don't define "weint". An internet search (confused by the large number of songs in German about weeping!) shows that a number of places in the North West have a weint. In Cumbria, Ulverston has The Weint, a small yard linking Buxton Place Car Park to Ulverston town centre – which sounds very like our Penningtons Weint. Great Urswick, also in Cumbria, has a long footpath called Weint Lane, which becomes a walled lane.

In Liverpool, East of Georges Dock Basin, Prison Weint is an ancient passage off Water Street, and was formerly called Stringers-alley. Liverpool also has Ogden Weint, which is described as having been opened out so it was no longer an alley, but an open space. Gatacre has Grange Weint. In Wigan, The Weind used to be spelt Weint, and in 1825 three residents were listed. Rixton, Warrington, also has The Weint.
Other odd places
The Neston area has many footpaths, bridle roads, and other interesting places, some of which have names, but many of them are not labelled.
Newhouses Lane
Newhouses Lane runs from Well Lane, Ness, to Quayside, Little Neston. It is Footpath 63.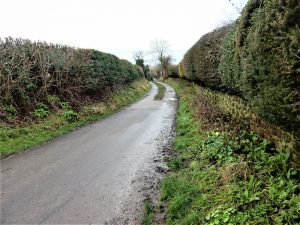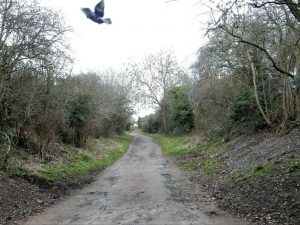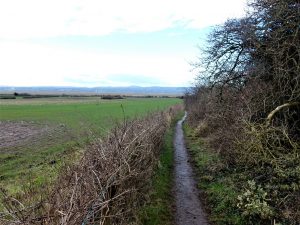 It begins as a wide farm track, and goes under the Wrexham to Bidston Railway. After passing a farm barn on the left (believed to be the site of the 'new houses', which were homes for miners, but are long gone), the track narrows and goes through a kissing gate.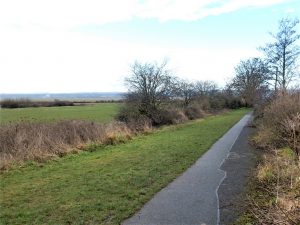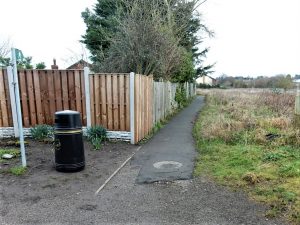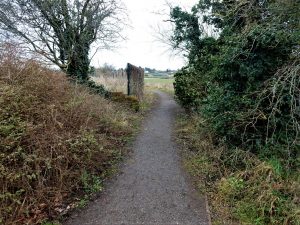 There are fine views across the Dee estuary, and across the fields to the left. Later it becomes a surfaced path, with access to Greenfields Drive. It then divides, and goes either side of a fenced area where planning permission was given for a large house.
Doctor's Styles
Doctor's Styles runs from Parkgate Road to Old Quay Lanes, and is FP 11. It is crossed by Beechways Drive and the Wirral Way. The name was reported by local historian Geoffrey Place, and is in Neston Town Trail. The path runs adjacent to the Library, which was built on land given by the widow of Dr Russell, who lived at Vine House. Images show Doctor's Styles from the Wirral Way and Parkgate Road.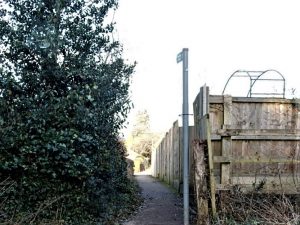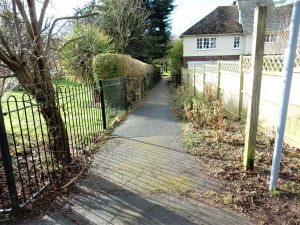 Mare Hall Lane
Mare Hall Lane runs from Lees Lane (just northeast of the entrance to the Wirral Way car park) to Cuckoo Lane (close to the Wirral Way bridge ). It is BR 48. Near Lees Lane it is narrow, but from the car park entrance it is wider and more used. Just before Cuckoo Lane there is a ramp up to the Wirral Way.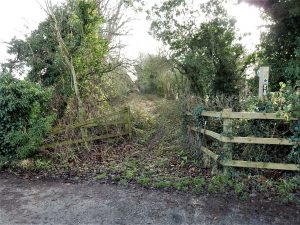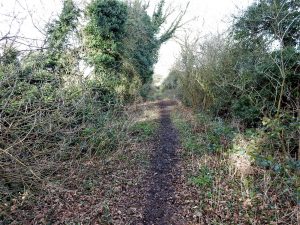 Morton Court
Morton Court is off High Street. Going from The Cross towards the Town Hall, it is the first narrow entrance on the left.
There are six addresses, and AP Mitchell Building Services Ltd are at 1 – 3.
Golden Lion Yard
Golden Lion Yard is also off High Street, almost opposite the Town Hall. It is not listed by Royal Mail. GR Bradshaw Electricians Ltd occupy it, with the address 10A High Street. Image shows the entrance to the yard.