Gladstone Village Hall, Burton
In 1906 Henry Neville Gladstone, who owned the village of Burton, built the hall for the residents of Burton and Puddington and gave them a considerable amount of the surrounding land.
Gladstone Village Hall was enlarged after the First World War, and the stage was added after the Second World War. The hall was always been at the centre of village activity.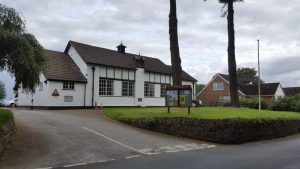 The hall is a charity with three trustees and a management committee, which in addition to managing the hall organises various fund-raising events such as The Village Fete, Farmers Markets, The Pumpkin Festival, Bonfire Night celebrations and a Christmas Fair.
The Hall is available for hire. The Hall has hosted numerous private events over the years from children's parties, christenings, 21st birthdays, and wedding anniversaries. Recently, wedding receptions have become very popular.
There are also regular groups and classes: check the official website.
For more information you can make contact using email: info@gladstonevillagehall.org.uk.