The Victoria Cross (VC) is the highest military decoration awarded for valour "in the face of the enemy" to members of the armed forces of various Commonwealth countries, and previous British Empire territories.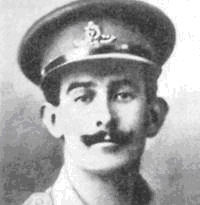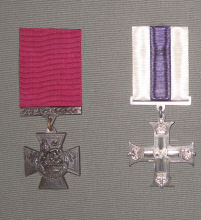 George Ward Gunn VC MC (26 July 1912 – 21 November 1941)
Ward Gunn's father, George, was born in Australia and educated at Melbourne Grammar School. He returned to his native Scotland to study medicine in Edinburgh and qualified in 1905. After various posts there and in Liverpool, he obtained the degree of Doctor of Medicine in 1908 and became a Fellow of the Royal College of Surgeons of Edinburgh. He worked for a while in Cairo where he met his future wife, who came from a distinguished Durham family. He became a general practitioner in Neston.
Ward Gunn was born in July 1912 at his grandparents' house, Calf Hall, Muggleswick, in Co. Durham, possibly because the family home in Neston was still being built. He was educated in Parkgate at Mostyn House School and later he (and his three brothers) boarded at Sedbergh School, now in Cumbria. They were collectively known as "The Gunn Battery", perhaps prophetically. He did well at cricket and cross-country running. His Cadet Force record is not available but his brothers were all good at shooting.
After leaving school, he trained as an accountant in London and Liverpool, passing his final exams in 1938. He volunteered at the start of the war, joining the Royal Artillery and being commissioned in 1940. He was part of the 7th Armoured Division (The Desert Rats) and was involved in the successful campaign from Egypt in 1940 and early 1941, winning the MC at the battle for Bardia (just inside Libya).
Rommel had arrived in Africa in February 1941 and forced the Allies to retreat back into Egypt, though he failed to capture Tobruk then. During a major attempt to defeat him and relieve Tobruk (Operation Crusader) in November 1941, part of Ward Gunn's division was defending the airfield at Sidi Rezegh, just south of Tobruk. He was in charge of a troop of four two-pounder anti-tank guns, which were attacked by a powerful German force including a large number of tanks. Despite most of his men and guns having been lost, he fought on. Ignoring the flames of the burning vehicle on which his gun was mounted, he continued to fire, and disabled a number of tanks, halting the German advance. In the storm of gunfire concentrated on him, he was hit in the forehead and killed. His valour was recognised by the award of a Victoria Cross.
The official citation says: "He fired between 40 and 50 rounds regardless of the enemy fire concentrated on this one vehicle, and of flames which threatened the ammunition. He remained undismayed by intense fire, and overwhelming odds. But for this very gallant action the enemy tanks would undoubtedly have overrun our position. " A slightly different version is given on the detailed Wikipedia page.
He was commemorated in Neston by the endowment of a bed in the local cottage hospital following an (oversubscribed) public Appeal. A plaque to him over the bed was transferred to St. Mary and St. Helen's Church when the hospital closed. Sedbergh School has a VC Memorial (to four former pupils). His medals are kept in the Royal Artillery Museum. In Neston, Gunn Grove is named after him and his picture hangs in the Royal British Legion building. Ward Gunn is buried in the Knightsbridge Cemetery outside Tobruk.
Medicine and soldiering ran in the family. A younger brother was a medical officer with the SAS in the early years of the war and died in a car accident in 1944. Another brother was a doctor with the Chindits in Burma and subsequently became an eminent orthopaedic surgeon.
To mark his centenary in July 2012, an exhibition was held in Neston Library and his medals were brought from London for display in his home town. Gunn Grove, off Breezehill Road, was named after George Ward Gunn.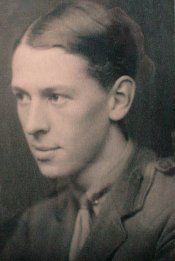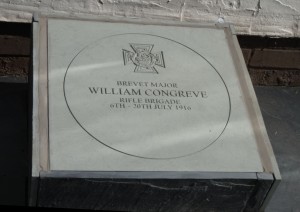 Major William "Billy" La Touche Congreve VC, DSO, MC (12 March 1891 – 20 July 1916)
Major William "Billy" La Touche Congreve VC, DSO, MC, born in Burton 12 March 1891, died 20 July 1916 after being shot by a sniper following his sorties in the battlefield to move wounded to safety. The award of the VC also cited his inspiration to those around him by numerous acts of gallantry. He is buried in Corbie Communal Cemetery, in France.
His father was General Sir Walter Norris Congreve, also awarded the VC, in 1899, at the Battle of Colenso, South Africa, in recognition of his actions in retrieving guns from a battlefield swept with enemy shell and rifle fire and subsequently going out to bring back a wounded fellow officer.
Only three father and son pairings have won the VC. A commemorative paving stone has been unveiled in Burton, at the front of the Gladstone Hall, in his honour. The commemorative paving stone is a Government scheme, which honours every Victoria Cross recipient of the First World War in order to provide recognition of their extraordinary bravery, on the 100th anniversary of their actions.
Christopher Bushell, V.C., D.S.O.
Details of this award can be seen on the Neston Past website.