Walter Aubrey Thomas (1859 – 1934)
Born in 1864, of Scottish ancestry, in Tranmere, Birkenhead, he married Maud Parris in 1886. They had seven children. He died 1934 Moorside, Neston.
He was apprenticed/articled to Liverpool architect Francis Doyle. Doyle was architect of churches in Neston, (see Town Trail point 1 and 10), St Mary & St Helen's Parish Church 1874-5, tower rebuilt, and United Reformed/ Presbyterian Church 1884.
Thomas set up his own practice with an office in Dale Street, Liverpool c 1876 and specialized in designing commercial buildings e.g. banks, cinemas, in Liverpool, Wigan, Warrington, Widnes, Woolton…
Buildings in Liverpool include some famous landmarks:
Lord Street Arcade, Lord Street 1901 (Listed Grade II).
State Insurance Buildings, 14 Dale Street 1906 – WWII damaged (Listed Grade II).
Tower Building Water Street and The Strand 1906 (Listed Grade II*).
Royal Liver Building 1908-11 (Listed Grade I).
St George's Dock of 1771, drained in 1899.
Crane Building, Hanover Street, a five-storey building, selling musical instruments (Listed Grade II).
Neptune Theatre (now Epstein Theatre).
Wirral homes include:
Designed and built his own house in Parkgate, in 1904 (named Bleak House after the novel by his favourite author) now named Brooke House, an 'understated Arts and Crafts style' (Listed Grade II).
Dunstan Wood, Burton 1926.
Elmhurst, Neston, extending and modifying a 1717 building (Listed Grade II) (Pictured).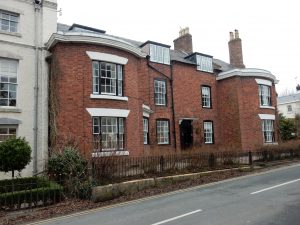 Having a large family, he had two Wirral homes, but moved before his death to a small bungalow in Neston.
Aubrey Thomas also built a retreat in Wales c 1918 – Cartrefle fishing lodge, Pont y Gwyddel, near Abergele, 21 acres and a mile of trout fishing on the rivers Elwy and Aled. It had four bedrooms, bath and shower rooms, a kitchen/ diner and a rod room. Gardening was his passion.
Aubrey Thomas avoided publicity and refused a knighthood.