Why does Neston have a Mayor?
The Neston & Parkgate Local Board (1867-94) didn't have one. The Neston & Parkgate Urban District Council (1894-1933) didn't have one. The Neston Urban District Council (1933-74) didn't have one. They all exercised greater powers than Neston Town Council (2009) which does have one. We have a Mayor.
Why? The 1972 Local Government Act – which still governs most of how the Council operates – says quite simply that whoever is elected Chairman of a Town Council can choose to adopt the title of Town Mayor. Strangely the decision is entirely a personal one. This also explains why there is no official mayoress or "consort" – the Act doesn't allow for it.
Moira Andrews, the first Chairman of the Town Council, chose not to be known as Mayor. But then she had previously been Mayor of Ellesmere Port & Neston Borough Council. Since then all Chairmen have been called Mayor. So our Mayor has a double job: to act as chairman of the Council as well as to represent the Town on official occasions.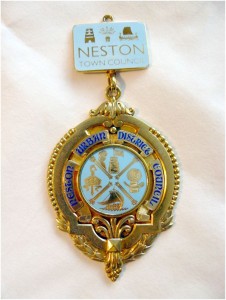 Ellesmere Port has a Mayor (a "charter mayor") but no Council. It is a ceremonial office only, chosen by CWaC Councillors in Ellesmere Port. The Lord Mayor of Chester is now also purely ceremonial, the Cheshire West Council having decided in May to separate the role of Chairman of CWaC Council and Lord Mayor.
The Neston chain of office incorporates the gilded silver badge worn by the Chairman of the old UDC – presented to the Council in 1950 by Mr P Lindsey OBE MC – with the addition of the first symbol of the Town Council, a variation of the emblems on the UDC badge and presented by Moira Andrews. The 20 chain links feature the names of office holders. What will happen in 2029, when space runs out, is not known.