Northern Lights is a charity set up in memory of Christopher Johnson, who died in 1987. The charity raises funds to give children with life-limiting illnesses the unique experience of a special holiday they will never forget to Lapland to meet Father Christmas.
The children are aged between six and eleven, treated at local hospitals in the North West of England and North Wales, and nominated by medical staff and social workers at the hospitals.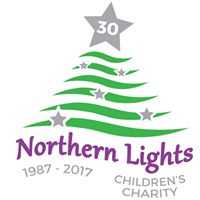 The holiday may be one of the first long trips without their parents, apart from stays in hospital. They are accompanied by caring adults, but are allowed to be as independent as they want, to make new friends, and be totally occupied with exciting experiences and having fun. They meet the big man himself as well as riding with husky dogs, visiting reindeer, having a try on a skidoo and complete an Arctic Circle crossing ceremony. Temperatures can reach -20ºC, but they have fun in the snow and return more confident and with a lot of stories to tell.
Back home after their holiday, there are benefits that last well after the trip. They have a break from the treatment regime and an escape from being perceived as a sick person; able to be someone else for a short time. The holiday allows them to rebuild confidence and self-esteem, to improve their strength and reduce their anxiety by providing a means of escapism. The children return full of the joys of spring, have renewed vigour, and are ready to continue with their fight against disease. Social skills improve and some lost confidence returns.
The holidays can provide a useful component in the treatment of these illnesses and we are proud to have played a small part in this role. Dr. Hilary Jones, our patron, commented, "As a doctor, we need moments like this to remind ourselves of why we do what we do, and to drive us to continue to strive to find the answers to the cruel diseases which can affect children and adults alike, and to make us all grateful for what we have, even if it is merely good health."
The second Parkgate Carnival took place on 8 July 2018.
Contact:
PO Box 33, NESTON, CH64 9FN
0151 336 2515
07889 161 202
info@northernlightscharity.org.uk
https://www.northernlightscharity.org.uk/