Walk 10 – Distance 3 miles
Start and finish in Raby Village.
Car Parking in Crossways, Raby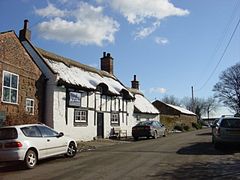 With the Wheatsheaf Inn on your left, walk about 30m up the lane. Cross the lane to thatched Jessamine Cottage to enter Wirral FP 38. Follow the path between hedges to a stile on right at end of path.
Cross this stile to join FP 41 in a W. direction, passing junction with FP 43 from Cherry Wood at a sandstone pillar and continue between hedges to an iron kissing gate by Cherry Farm to enter Upper Raby Road.
Turn left and walk SW to join the A540 Chester High Road.
Turn right and walk NW on footpath to traffic lights at Neston Fiveways (junction with B5136).
Cross the B5136 then cross the A540. By the bus stop, there is an entrance to a tarmac footpath on the left of the verge. Continue on footpath passing Ashfield Farm on the opposite side of the road. After about 150m, there is a police layby. Look for a footpath sign on the other side of the A540.
Cross road and take FP 9 through wood to sandstone stile over wall to Liverpool Road. (To your left is The Red Fox, formerly Westwood Grange).
Cross the road to join path alongside Yewtree Farm.
Continue alongside ditch and by footbridge over a stream then between hedges to a gate by the road junction in Raby Village.