Little Neston and the Dee
Walk 5 – Distance 6 miles
Start and finish at Lees Lane Car Park, Wirral Country Park.
Buses: Hinderton Arms (Stagecoach 22)
Railway Stations: Neston, Hooton
Car Parking: Lees Lane, Wirral Country Park
Some of the paths on the first third of this walk can be very muddy in the winter.
This walk can be extended by about two miles by continuing past the Harp Inn, along the Dee to Parkgate and taking the Wirral Way back to Lees Lane.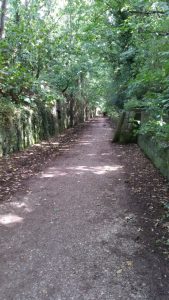 From Lees Lane Wirral Country Park car park, turn left onto Wirral Way. After about 5 minutes/ 450 metres, the path crosses Cuckoo Lane Bridge.
Descend onto Cuckoo Lane (BR 49) 15 metres before the bridge. (The steps on the right are very steep: there is an easy slope on the left.) Turn right and walk up the hill.
On the brow of the hill, turn left through a kissing gate onto FP 23 past conservation area to T-junction with BR 51 (Woodfall Lane).
Turn left to Mill Lane then right towards Ness. CAUTION – this is a single track road, very narrow in places. At the 30 MPH sign, turn sharp left into Flashes Lane. Walk past 4 cottages on the right then on to grassy lane for 25 metres. Turn right onto BR 52a.
Walk on BR 52a to end of path at Orchard House, then right on FP 53 (Haddon Lane) to Neston Road opposite Ness Gardens.
Turn left towards Burton then join Denhall Lane on right and descend to marshes. Turn right onto FP 54 at Denhall House (since 2013 part of the Burton Marsh Greenway, National Cycle Route 568), past Net's Cafe at Denhall House Farm, towards The Harp.
After about one mile, shortly before the first house on the right, turn right at the footpath sign onto FP 63 (Newhouses Lane). (To visit The Harp Inn, walk on for about 250 metres then retrace your steps.) Bearing right at any junctions, walk to Well Lane.
At road junction turn right along Well Lane into centre of Ness Village.
At the junction with the main road, turn left towards Neston. When you pass Swan Cottage turn right into Cumbers Lane.
Carry straight on and join FP 24, across a field into play area, past Woodfall School.
Turn right onto BR 51 (Woodfall Lane) and look out for gap on left to join FP 50 which leads between hedges to rejoin BR 49.
Turn right and descend to Cuckoo Lane Bridge to Wirral Way and retrace outward path to Lees Lane Car Park.
Items of interest on or near the route are:
Lees Lane Ponds.
Ness Gardens.
Swan Cottage Ness (wrongly said to be the birthplace of Lady Hamilton).
Dee Marshes
Denhall Quay.
Site of former Coal Mine at Denhall.