Walk 8 – Distance 2½ miles
Car Parks at Brook Street, Neston (Both free: Chester Road car park unlimited, multi-storey car park 3 hours)
Railway station: Neston
Bus Services: Brook Street, Neston (Arriva 487, Stagecoach 22, Aintree Coachlines 272)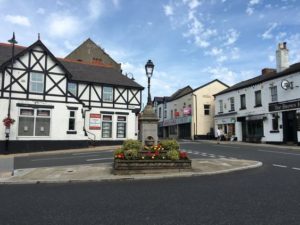 From The Cross at Neston go along Brook Street, left along Tannery Lane, then right up Blackey's Lane.
Cross over Breezehill Road to join FP 14 leading across fields with hedge on your right to join Chester High Road A540 at wicket gate.
Turn right and cross over at traffic lights by Hinderton Arms and continue on footwalk to Lees Lane.
Turn right and walk down lane to join Wirral Country Park at Car Park.
Take path through trees past ponds to join Wirral Way, turning right in direction of Neston.
Walk down sandstone cutting to Bushell Road.
Cross over into Station Road and turn right into FP 13X through Stanney Fields Park to Chester Road.
Turn left under Railway Bridge then right into Car Park to Brook Street.