Walk 2 – Distance 2 miles.
Bus Services: Stagecoach 22, Aintree 272
Railway Station: Hooton
Car Parking in Willaston at The Green or off Hadlow Road.

This walk can be combined with the walk West of Willaston. Both walks start and finish at Willaston Village Green.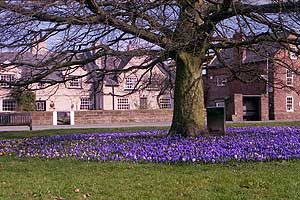 From Village Green cross Neston Road to join path alongside the churchyard to Elm Green.
Follow the footpath signs and join FP No 29 at rear of houses to Recreation Ground by Jackson's Pond.
Continue forward through three kissing gates to Mill Lane near the Old Mill and turn right.
Walk past Mill and continue downhill and turn right until you reach 30 mph signs.
Turn left onto Neston FP No 30 and right at the footpath sign at rear of houses and through kissing gate to join Hooton Road.
Cross road to enter Change lane and Neston FP No 33.
Turn right at bend in lane and continue through four kissing gates across fields to Pemberton Close.
Turn left then right to enter Old Vicarage Road. Turn left and join path (signed) then right along Hadlow Road to return to the Green.