Walk 9 – Distance about 4 miles
Car parking at Station Road, Mostyn Square or The Old Baths, Parkgate
Bus Services: Stagecoach 22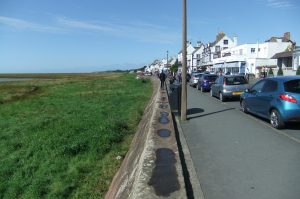 From Mostyn Square, walk along Parade to Boathouse and join road leading to the Old Baths (FP l) and along sea wall to join Wirral FP l.
Descend steps at end of wall to Cottage Lane, Gayton.
Turn right and walk up road, pass over bridge above Wirral Way and continue to junction, then right along Gayton Farm Road.
Walk past old cottages to join Wirral FP 3 which passes between hedges in S to SE direction alongside the golf course.
Continue at side of golf course in a SE direction, looking out for a gap in the vegetation to the left leading to a gate.
Descend across field to a gate and footbridge, then up the hill to a gate by Backwood Hall.
Continue through farmyard on track (FP2) to reach Boathouse Lane.
Turn right and walk down the road over the bridge and past housing to reach the end of Parkgate Parade by Boathouse.
Return from here to Mostyn Square by The Parade or the road to the right to The Old Baths.