South and East of Willaston
Walk 1 – Distance 4½ Miles.
Car Parking: at and adjacent to Village Green
Bus Services: Avon 22, Aintree, 272
Nearest Railway Station: Hooton (Merseyrail) 1½ miles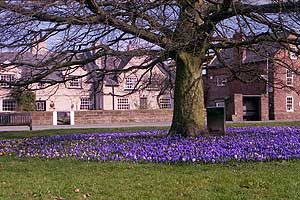 From Village Green turn into Hadlow Road and enter Smithy Lane (Neston BR 36)
Continue past housing then take Footpath Neston 35 on right across field to join Wirral Way.
Turn right towards Hadlow Rd Station then join FP Neston 34 on left between farm buildings and field to Adfalent Lane at Seidloom Farm.
Cross lane to join FP Neston 37 at field edge to New Hey Lane, turn right then take path on left, and continue across stiles by waymarked path to A540 near Gordale Garden Centre.
Turn left and continue on footwalk of A540 for about 500yds.
Join FP Neston 38 on left and continue forward over fields and stiles or gates through Hallwood Farm to Badgers Rake.
Turn left at Badgers Rake and join E. Port BR 4, Oaks Farm Drive through gates to Heath Lane.
Turn left and after crossing Railway Bridge turn sharp left to join Wirral Way then right towards Willaston.
At Hadlow Road Station turn right into Hadlow Road to return to the Village Green.