Wirral Country Park, Little Neston
Walk 7 – Distance about 2½ miles
Bus Services: Hinderton Arms (Stagecoach 22)
Railway Stations: Neston, Hooton
Car Parking Lees Lane Wirral Country Park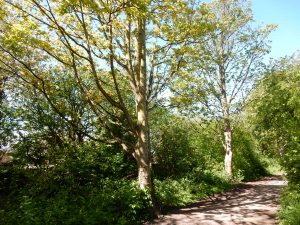 From Lees Lane Wirral Country Park Car Park walk over bridge and past pond to join the Wirral Way and walk in an E direction to just before the bridge over Cuckoo Lane (BR 49).
Turn right onto Cuckoo Lane (the steps on the right are very steep: there is an easy slope on the left).
Walk up Cuckoo Lane in a SW direction passing one stile on the right to a kissing gate on the left at the brow of the hill.
Turn left through the kissing gate and walk along the field edge (FP 23) in a SE direction to a stile.
Cross stile with hedge on right alongside Nature Reserve as far as kissing gate where path joins Woodfall Lane (BR 51).
Turn right along bridleway in a SW direction until you reach FP 50 on your right.
Join FP 50 between hedges in a N direction to junction with Cuckoo Lane BR 49. Keep straight on through kissing gate, along FP 22 with hedge on your left.
Turn right and walk in E direction across field along FP 21 to a stile at Cuckoo Lane.
Turn left along Cuckoo Lane to Wirral Way and Lees Lane Car Park.