Neston Community Cyber Centre
Neston Community CyberCentre has been operating in Neston Methodist Church and Community Centre since 2001.
Started with government funding, the centre has been supported by West Cheshire College, Project Rural Matters, The Fair Shares Trust, Adactus and currently Cheshire West and Chester Council. The centre is staffed by volunteer CyberBuddies.
Visit The Neston Cyber Centre Website for full details.
We have nine networked PCs running a range of software. We have two state of the art printers. We have Epson scanners, with which documents can be scanned. The Cyber Centre provides free wireless internet to registered users, so that people with their own laptop or tablet can come in to seek help with using them, or just to connect the internet..
CyberBuddies are on hand, and can help you with: • Job applications and CVs. • Booking flights and holidays. • Setting up email accounts. • Government or council websites (for example renewing your driving licence online). • Researching family history • Practice with computer skills programmes. • Downloading and editing digital photographs. • Providing advice on problems with your Laptops or PCs • Using Tablets and smart phones.
Registration to use the Cyber Centre is free to residents of Neston, Little Neston, Ness, Parkgate, Willaston, Burton and Puddington: we ask users to make a small donation if they find the service useful. Users must be over the age of 16. Users from outside the CH64 area are also welcome; we ask them to make a donation.
Opening Hours
Monday 9.30am – 12pm
Tuesday 9.30am to 12pm and 2.30pm to 5pm
Wednesday 9.30am – 12pm and 2.30pm – 5pm
Thursday 10am – 12pm and 2.30pm – 5pm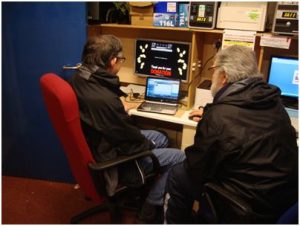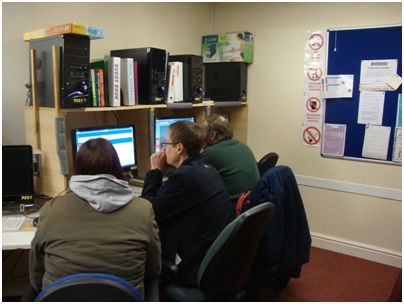 Call in at Neston Community CyberCentre, Neston Methodist Church and Community Centre, Park Street, Neston (opposite the Brewers Arms), or phone us on 0151 336 7784 during opening times or email us on: nestonccc@gmail.com.
Would you like to be a CyberBuddy? We are looking for new CyberBuddies, to provide additional support during busy sessions, and to open up additional sessions. Training will be provided, and we would particularly welcome new CyberBuddies who bring additional skills.