Neston Library, Parkgate Road, Neston, CH64 6QE or visit the official Neston Library Website.
Monday, Wednesday and Thursday: 9am – 5pm
Tuesday and Friday: 9am – 7pm
Saturday: 9.30am – 1pm
It is free to become a member and you can join in person or online. We offer local and virtual access to a wealth of resources. Our friendly and knowledgeable staff are always here to help you find books or information.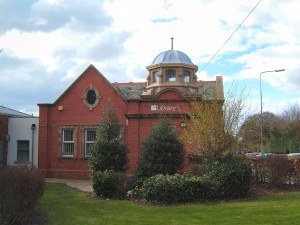 Neston Library may have been built in 1907 but we have changed a lot since then. (It is the last remaining Carnegie library in Cheshire and was built thanks to the generosity of Andrew Carnegie 'the patron saint of libraries' and the dedication of local people).
In 2007, Jo Bell, Cheshire Poet Laureate, wrote the following poems to celebrate the Centenary of Neston Library. You can find out more about Jo Bell through her Blog: The Bell Jar and via her biography on the Poetry International website.
HABITAT
Turning down the Liverpool road we smell marsh salt and know we're home.

The birds are settling as boats once did against the silted walls.

We see the lights in dark Welsh hills and wonder, as we did last night, what they're doing over there.

Over there, they're heading home along their soft salt-darkened roads and taking bearings from our English lights; our unknown roads, estates.

Their birds are settling like miners' ghosts.

They wonder, as they will tomorrow, what we're doing over here.

© Jo Bell, Cheshire Poet Laureate 2007.

BEAR YE ONE ANOTHER'S BURDEN
A hundred years we've hung out welcomes,
built our faith and learning into brick.
We mark the fetes and anniversaries as honestly
as crinkle-crankle walls on hand-drawn surveys.
We read and learn and keep those welcomes fresh;
guide new fingers over charts of dog-walk fields,
sharing names of earthworks long forgotten
before we came here to remember them.
The geese fly in across the map from Ireland,
finding wilder routes above our shrubberies and shops.
For miles the mine shafts poke out curiously
beneath them in the river bed, feeling for the sea.
These winds have taken men to Greenland,
sent out sailors skint and brought them back with silver,
lifted little-bellied boats out of the Dee.
Now they blow us to the Old Quay for a beer.
And that's no loss. We've lived beyond the storm,
survived the slippery economies of fish and pithead.
No longer are we port of call or point of slow departure,
and not a last resort. We're warmer, safer.
Work and travel, thrift and neighbourhood
have slowly furnished us with self-made landmarks.
Every gain we make is hauled back to the map;
library and market cross, school and chapel, hall.
We greet each other in the lanes by name.
We meet and pass the time by gaslight, marsh-light,
moonlight, eating shrimps and counting herons
on the marsh, as fixed as weather-vanes.
We lean against each other now like paperbacks
settling to our proper places, making space for others.
We map new gardens, supermarket fascia, change,
but still choose brine for ink to write their names.
We live here like the spaces between words
without which words are meaningless;
building an archive of place and self,
stacking up more welcomes like books on a shelf.

© Jo Bell, Cheshire Poet Laureate 2007.
Incorporating self-service machines into the library allows staff to spend more time helping our users and running activities such as reading groups, story times, class visits and local history sessions. We have a huge number of online services which you can access from your home 24 hours a day, such as a music streaming site called Naxos. Our latest service is "OneClick Digital" which enables you to download audio-books free! Additionally you can download e-books from home (please ask staff for more details).
We have, of course, a brilliant range of books for all ages and tastes, with friendly skilled staff who will help find the right book for you, whether it's the latest best-seller or that quirky little gem. If you want to find out about Neston we have a fascinating local history library which includes the collection of the late David Scott and lots of old photographs of the area.
Why not pop in to see us? You will always receive a warm welcome.